Oniva
All-Purpose Machine Washable Stadium Blanket
The All-Purpose Machine Washable Stadium Blanket is a waterproof and machine washable large picnic blanket perfect for all outdoor uses.
Waterproof
Machine washable
Gets softer with every wash
Soft Fleece
Rolls into carry sack with drawstring closure
Carry sack with handle
Corner loops for optional stakes (stakes not included)
Image of All-Purpose Machine Washable Stadium Blanket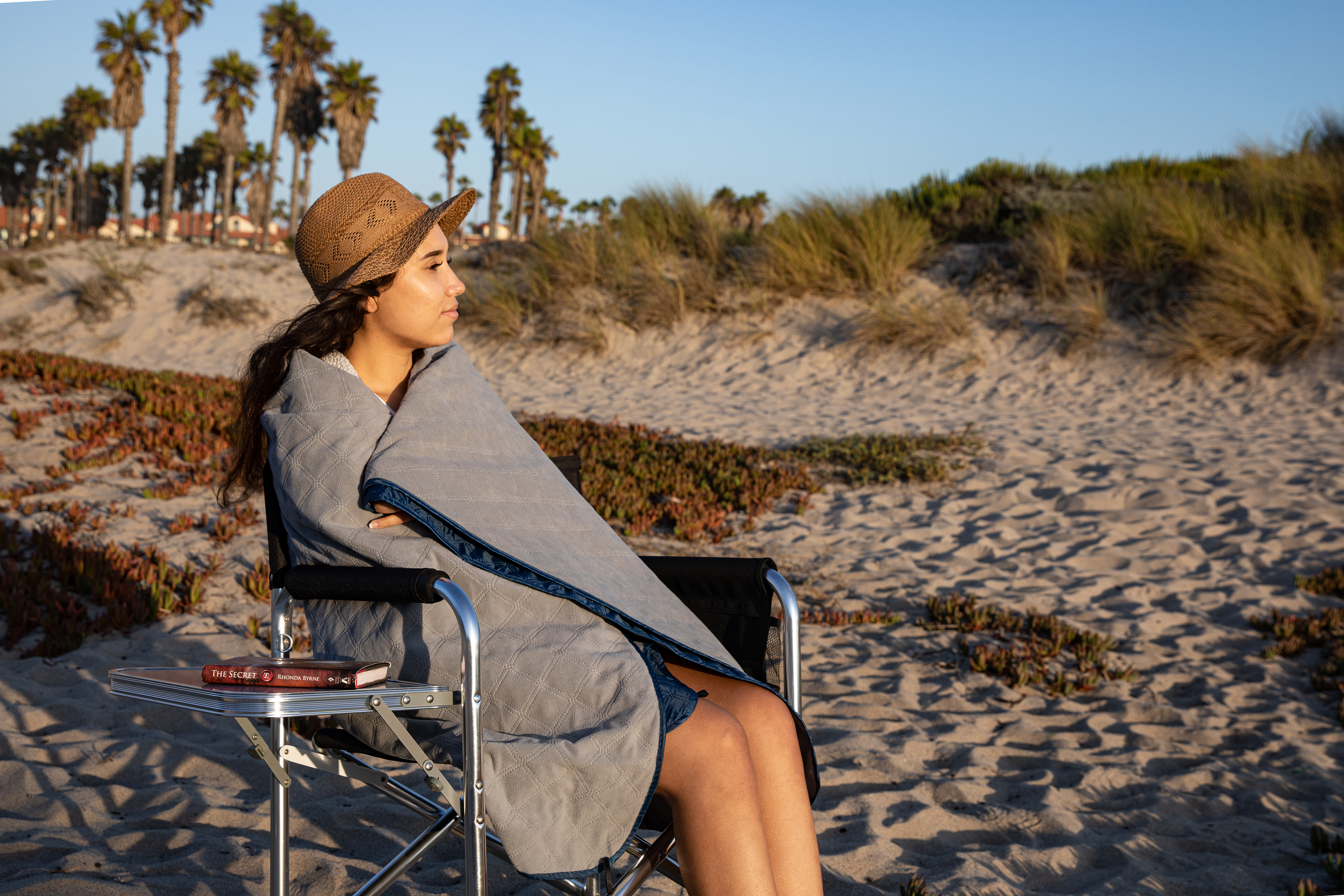 You want a portable picnic blanket for your outdoor lifestyle, the relaxing on the ground part. A travel blanket that can stand up to a serious hike but is so soft you can lay back on this picnic mat for some shuteye in the sun. But your outdoor blanket should also have loops for stakes (stakes not included) in case it's windy, and any beach blanket absolutely needs to roll up into a bag so it's portable. It should have a sturdy handle, of course. Don't forget, a stadium blanket definitely needs to be both truly waterproof and machine washable - heat sealed stitching takes care of that - because small people spill juice and big people spill wine and beer. When it comes to portable picnic blankets, you have a lot of needs. And that's great, because our All-Purpose Machine Washable Stadium Blanket is there for you. It is, it's right there in your trunk, ready to go wherever you happen to be headed, looking stylish in solid, versatile colors that never clash with your game day jersey or picnic attire. This is a large blanket on which you can rely.
SKU:

826-00-138-000-0

826-00-105-000-0

826-00-118-000-0

Components:
1 Washable Blanket (Polar Fleece, Polyester with Polyurethane Coating, 70" x 58"),1 Carry Bag (Polyester, 10" x 6" x 5.5")
Weight (lbs):
1.60
Full Item Dimensions:
70 x 58 x 0.01"
Alternate Item Dimensions:
Corner Zippered Pocket: 8" x 8""
Material Content:
Polyester with Polyurethane Coating and Polar Fleece
Care Instructions:
Machine wash warm and machine dry, medium heat. Do not dry clean. Do not iron.
Reviews
Total 5 star reviews: 9
Total 4 star reviews: 0
Total 3 star reviews: 0
Total 2 star reviews: 0
Total 1 star reviews: 0
100%
would recommend this product
Amazing stadium blanket

I am absolutely thrilled with this stadium blanket. The maroon color on the waterproof outer side is gorgeous and I love the gray fabric in the other. Ive used this to sit out with my pups in the rain this week and it is super protective and keeps me warm. I could even use this as a picnic blanket if the rain would stop this week. The carrying case that comes with it is amazing and so nice to have for storage.

Perfect Blanket

This Stadium Blanket is awesome. My daughter and her friend used it for a heat wave backyard camp out and loved using it. They placed it on the bottom of their tent because it is slightly padded but ended up using it to sleep with. The pros came from them:

Pros: Good size, comfortable, waterproof, lightweight warmth, yet breathable fabric, and has a carrying case.

So easy

I am a huge fan of the Oniva - All-Purpose Machine Washable Stadium Blanket. It is extremely easy and has a little bag that make bringing it anywhere easy. We have used it in the stands as well as on the ground. Soft and spacious and easy to fold back up into the carry bag. I am very impressed and currently looking to a bigger one.

Nice blanket

This is a nice blanket. I like the neutral color, it is good quality, and it is machine washable. We use it when we go to have a picnic in a park and our kiddos love that they can sit on the ground and have their lunch. It is little bigger than what I expected, but thats not a complaint. I plan on taking it with us for our summer concerts at our local park. Easier to carry and more practical than chairs. Overall, our family can recommend!

Good quality!

I am happy with the blanket. We go to soccer games and practice a few times a week and this blanket always comes with us. Sometimes we just sit on it and sometimes we use it when we get cold. When I go alone it is easier for me to carry a blanket instead of a chair and it is also more comfortable (for me). I think everyone with kids would appreciate this as a gift. It is just the perfect size and you can easily wash it and dry it. We are going campaign next weekend and this blanket is coming with us. I am very happy with the quality. I might get another one in more cheerful colors. Overall, I think this blanket will stay with us for the years to come.
Reviews Loaded
Reviews Added