Oniva
Blanket Tote XL Outdoor Picnic Blanket
The Blanket Tote XL Outdoor Picnic Blanket is an extra-large portable camping blanket with soft fleece topside and water-resistant underside that packs into a compact carry tote.
Nearly 39 square feet of seating area
Water-resistant underside shields you from damp grass and cleans up easily
Soft fleece (140 gsm) topside for comfort
Folds into a compact carry tote with shoulder strap
Has a security pocket on the flap of the folded tote
Image of Blanket Tote XL Outdoor Picnic Blanket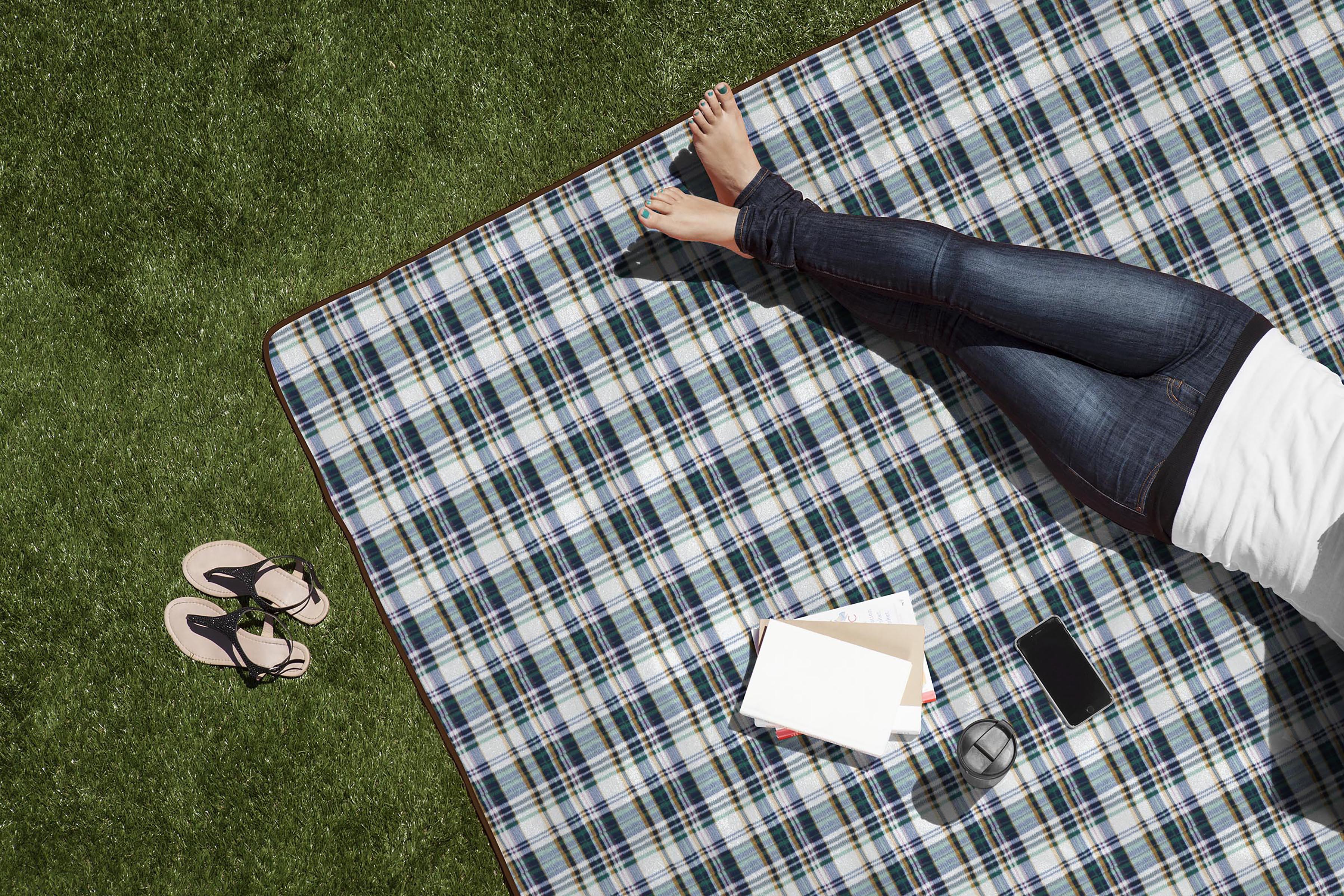 Morning dew, damp grass, and sand don't stand a chance against the Blanket Tote XL Outdoor Picnic Blanket! This extra large portable camping blanket with a soft fleece topside and water-resistant underside packs into a compact carry tote with shoulder strap and zippered security pocket. With 38 square feet of softness, this large beach blanket seats the whole family - and then some! - and upgrades any picnic. Our best picnic blanket can even double as a poncho in a sudden rainstorm or a handy travel blanket on flights.
SKU:

920-00-300-000-0

920-00-406-000-0

920-00-107-000-0

920-00-177-000-0

920-00-778-000-0

920-00-109-000-0

Components:
1 Folding Outdoor Blanket and Tote (18" x 11" x 5")
Weight (lbs):
2.2
Full Item Dimensions:
18 x 11 x 5"
Alternate Item Dimensions:
Open: 70 x 80"
Surface Area:
Over 5,600 (Almost 39 Sq. Feet)"
Material Content:
45% Polyester; 45% Polyethylene Vinyl Acetate; 10% Polyurethane
Care Instructions:
Do not machine wash or dry. Surface wash with warm water and mild soap by hand only. Do not dry clean. Do not iron.
Reviews
Total 5 star reviews: 9
Total 4 star reviews: 2
Total 3 star reviews: 0
Total 2 star reviews: 0
Total 1 star reviews: 0
100%
would recommend this product
So large and confy, a little too warm

This is such a great picnic blanket large enough to accommodate a large family and adult lying down, perfect for naps too, it does protect against humidity and has a thick layer. The tote is not one that you can wrap the blanket in though, there are elastics to keep the blanket in place, the tote is for you to carry accessories, books...at least thats my understanding, as we were not able to get the blanket in the tote at all.

great

I am so glad that I own this !!!! We like taking my daughter to the park often, one or twice a week. we would always take sheets to sit on and it was just a hassle. We forget them and would have to go back and they are really thin so wasnt all that comfortable or a simple breeze would pick them up. This tote outdoor picnic blanket is perfect for us !! just what we needed. i was a bit concerned that the fleece would make it too uncomfortable to sit on during hot days but the first time we used it was 108 degrees and it remained cool. The size is good for 3 people in my opinion maybe 4, I did expect it too be a bit bigger since it is XL but its perfect for us 3. Best of all you can fold it back up and leave in your car.

So far, so good

My favorite thing about this outdoor blanket is that its very simple and portable. Once you unroll it, you can actually fold it back up easily and carry it around using the built-in shoulder strap--I had one of these types of blankets from another brand that closed with velcro but once I unrolled it I could NEVER get it to roll up tight enough to stick the velcro on, which makes it harder to lug around. I prefer this one a great deal because I am a very active person (camping, hiking, rivering) and its packability/portability makes it ideal for carrying on adventures, along with my 8 million other items, lol.

It also feels more durable and comfortable than my previous one. The pattern side is fuzzy and its thick enough that you wont feel every single rock and twig when you sit on it, but not SO thick that its heavy or annoying to carry. Its handsome and I like that the pattern has a unisex feel to it.

Some things to note: It is ALWAYS DRY in the state I live in, so I havent been able to test whether the bottom is actually water-resistant. Because of the weather, I may just never know. This was not a dealbreaker to me, but FYI it had a strong chemical/plastic smell when I first opened it up. I hung it outside on a railing on my back porch, overnight, and it cleared up.

Perfect size!

This picnic blanket exceeded my expectations. Its big enough for a family to sit on or even adults to lay down on. It does protect against humidity, so if the grass is a little wet you wont have to worry about it seeping through the blanket. The other side of the blanket is soft and not itchy at all like some blankets. The only thing about that side is that sometimes grass sticks to it easily. But its also just as easy to shake off when putting it away. Its easy to fold back up and stays in place with an elastic strap.

Good quality blanket

We often go for picnics with our family friends and a good picnic blanket is really important. I really liked Blanket Tote XL outdoor picnic blanket. The quality and material of this blanket feels like top quality. Its not heavy and can be carried easily anywhere. The top layer of blanket feel soft and comfortable to sit on. And the underside is made up of water resistant material. Therefore, it can be used anywhere like beach or playground picnics. I like that its big in size and can accomodate friends/family easily and comfortably. Moreover, it can be packed into a carry tote amd can be carried on the shoulder. This is a nice picnic blanket.
Reviews Loaded
Reviews Added