Legacy
USC Trojans - Bar-Backpack Portable Cocktail Set
So this guy walks in carrying a bar...That is, the Bar-BackPack.
Portable bar set with specially designed pockets to hold assorted bottles and bar accessories
Includes 16 essential bar tools, removable bar tool organizer, pocket for business cards and phone.
Image of USC Trojans - Bar-Backpack Portable Cocktail Set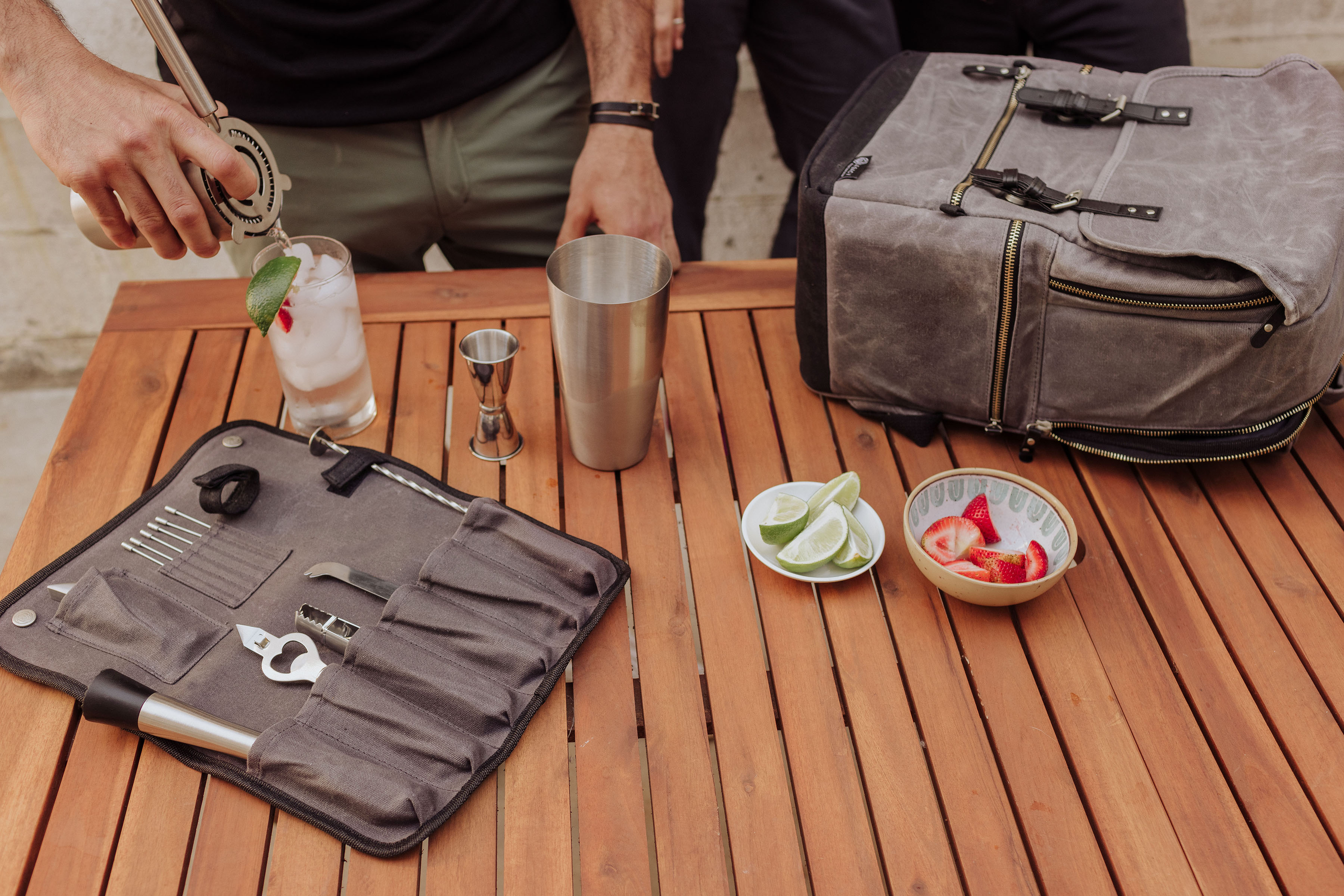 So this guy walks into a bar… No wait, that's not how this one starts. So this guy walks in carrying a bar… That is, the Bar-BackPack. This original design features an impressively large amount of features and space, so you can bring the full bar experience with you wherever your adventures take you. This insulated, padded tote has been specially designed to hold up to 3 large bottles. It features a zippered front pouch that has pockets sized to hold your phone and cards with additional space for extra necessities. The front main pouch features a removable 16-tool bar tools organizer (including six Cocktail Picks, one Hawthorne strainer, tongs, one cocktail spoon with hammer, one muddler with plastic head, one double-sided Jigger (1oz/1.5oz), one dual-leverage waiter-style corkscrew, one two-piece shaker (24oz/16oz), one fork-tipped serrated paring knife, one combination bottle/can opener, and one acacia cutting board), essential for making the most elaborate of cocktails. We know the best thing to pair with your cocktail is a light snack, so we've designed the side pockets to fit the small cutting board so it can double as a cheese/charcuterie board too. This cool gray and black design is made of waxed cotton canvas. Now how did that joke end again?
| | |
| --- | --- |
| SKU: | |
| Components: | 1 Insulated Multi-Pocket Backpack (11.5" x 7.8" x 15"),1 Bar Tool Organizer Pouch (11" x 14.5"),6 Cocktail Picks (4.3"),1 Stainless Steel Hawthorne Strainer (3" x 8.5"),1 Stainless Steel Tongs (6.25"),1 Stainless Steel Cocktail Spoon with Hammer (10"),1 Brushed Stainless Steel Muddler with Plastic Head (8"),1 Brushed Stainless Steel Double Sided Jigger (1.75" D x 3.5" H, 1oz/1.5oz),1 Brushed Stainless Steel Dual Leverage Waiter Style Corkscrew (4.9"),1 Brushed Stainless Steel Two Piece Shaker (3.5" D x 8.25" H, 24oz/16oz),1 Stainless Steel Fork Tipped Serrated Paring Knife (7.5"),1 Stainless Steel Combination Bottle/Can Opener (7"),1 Acacia Cutting Board (6" L x 6" W x 0.75" H) |
| Weight (lbs): | 6.45 |
| Full Item Dimensions: | 11.5 x 7.8 x 15" |
| Material Content: | 40% Canvas; 20% Expanded polyethylene foam; 20% Cotton; 10% Polyethylene; 8% Stainless steel; 2% Acacia |
| Care Instructions: | Surface wash with a damp cloth only. Hand wash accessories. Towel dry. |